I put words with my own photos as well as illustrate for writers. I do book covers for writers and write ad copy for businesses with a concise, organic feel using my connection with people and love of psychology.
My work has been described as honest, open and inspiring.

Photos and text of poetry and philosophy.
Words about Nature, travel and Creativity:
Artbygordon Blog: a blog about art, creativity, painting and upcoming series.
Life Creatively: Seeing life from a creative viewpoint
Travel Writing: Freedom to Roadtrip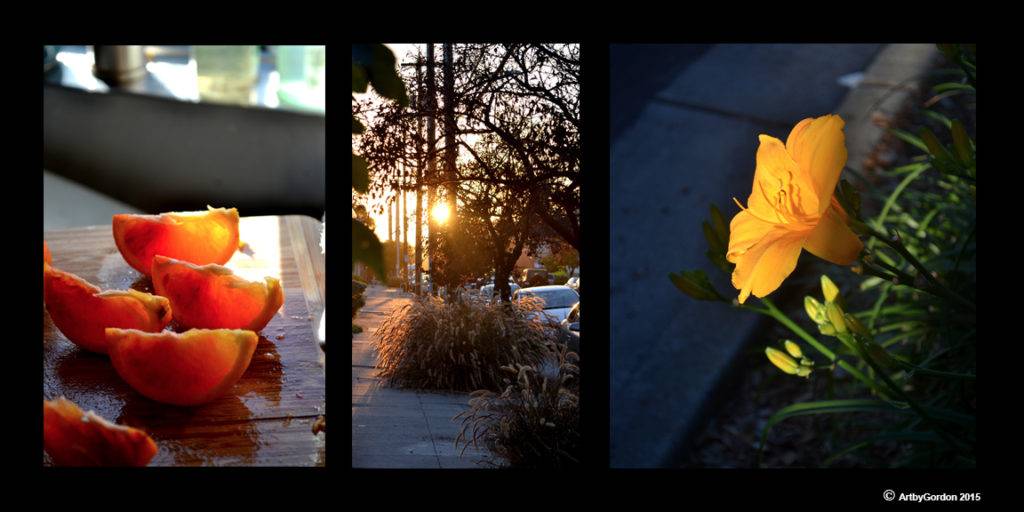 Blood oranges on windowsills full of light,
Flowers in sunset catching last minute vibrance
I watched the sun slip beneath the concrete, 
as the gnarled silhouette of trees
bent and changed in the final throws of the electric hour
I watched a cat take his place in a window
a mist of a curious herb mingled with the flavor of chicken
grilling in the backyard
trumpet vines climbed warm white walls
as colors gave up all of their voice in tantrum
I sipped the energy like a glass of wine
white and fragrant the fading light
I explored long grey walkways, watched artist
paint on walls and pull works through press
flowers grew and tumbled out into the street
broken edges of the road
warning signs and couriers on bikes
I watched dogs investigate
and people in conversation
fragrant lattes in open windows as we passed
I was in Oakland, awake
the artist in me
fruits and vegetables, herbs like weeds
across the cold concrete, warm yellow flowers
my beautiful muse, all I need…