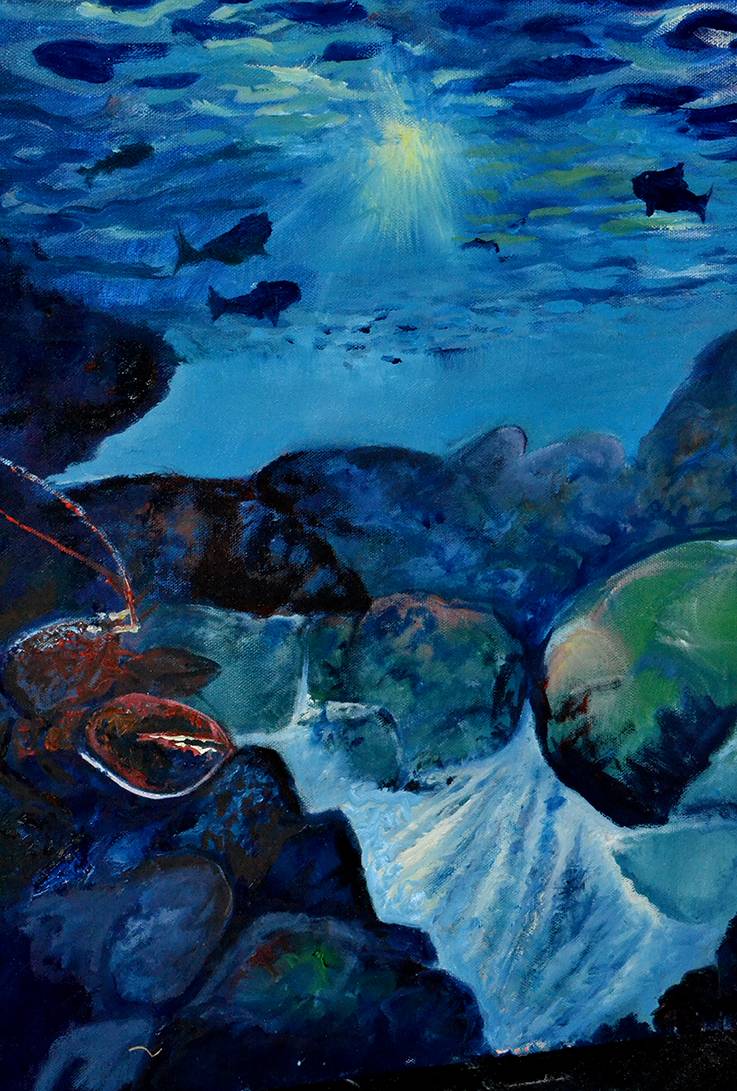 Painting Deliberately – There are so many different feelings when you paint, sometimes it's pushing paint around, sometimes it's deliberate, even mechanical and sometimes it's instinctual, tonight's  sitting was a little bit of all of them.
I started with an under painting and it was one of the more deliberate paintings I've started, unfortunately I didn't have the full picture, just an idea of clouds moving forward over the viewers head. The actual image is from real life, I have photographs for reference but I'm not completely sure where the clouds end and what the landscape looks like.
I painted the background with perspective lines, every form, every color and every space will be designed with the idea of perspective and I want the viewer to feel overwhelmed by the clouds overhead.
As I tend to do, I switched gears after finishing a monochromatic under painting I turned to the painting of a scene from beneath Shark River Inlet in Belmar New Jersey. This painting was inspired thirty plus years ago and it still stood clear.
I painted with a clear feeling of purpose but as suddenly as it began it ends and I wasn't sure if I was done with the painting or should start all over. The problem is the idea and image is strong but the recollection is so hard to bring back to mind. I will continue to study it until I know it's either done or time to start over.
Another thing about painting, sometimes you feel like you've created your best work and sometimes the same painting looks like a mistake. I got back to the grackles above the city, an image that I started at the end of the last series, again I had that feeling of instinct kick in and for thirty minutes or so I painted like I figured out the problem.
None of the paintings are finished but I feel like I'm shaking off the stagnation and getting in the process. The most exciting thing about painting instinctual is that images appear that you didn't necessarily know you were creating they just come out of the details you've worked in feverishly.
I'm excited about this series and feel it will be a huge step toward my future painting style and feel.
Stay tuned, more paintings coming very soon.