It's been more than ten years when I first met R.L. Clayton, he is a science fiction writer and I met him through a friend. He wanted a cover image of a futuristic ship that didn't exist. Challenge accepted!
Sea Species was born. We both invested time and patience to envision an image that didn't yet exist. That is the job of a designer when you are creating something that is not your own, you need to listen and get out of our own ideas and allow the client's vision to become real.
Little did I know at the time, but I was about to create a library of books that all stemmed from one project.
A lasting business relationship quickly turned into a friendship even though I have never met him in person.
In these days that the bottom line trumps loyalty and integrity, it is a very rewarding experience working with a client on a basis of trust and the old fashioned idea of a handshake.
Next came the Envoy and soon after that the Genesis. I created his website for the evolution river series and posters for book readings. We also started a social media presence and a monthly email.
The next book was about the woman pilots of World War II. It was a departure from science fiction to a story with a historical backdrop. Another book and another cover was created and as the list of books grew so did the website.
R.L. Clayton books website began with R.L. Clayton descending in dystopia back before dystopia was a thing. I listened to the creepy ideas that spawned the next cover in the collection.
The Dead series began with a book about terrorists, on the cover was to be a coffin with a life meter on the face; Dead and Dead for Real was born.
The writer's vivid ideas began creating a definite brand and a look and feel that grew as we continued to produce new books.
In this time I learned the art of creating an e-book and suddenly besides the printing issues we learned and tackled the problems associated with creating an e-book.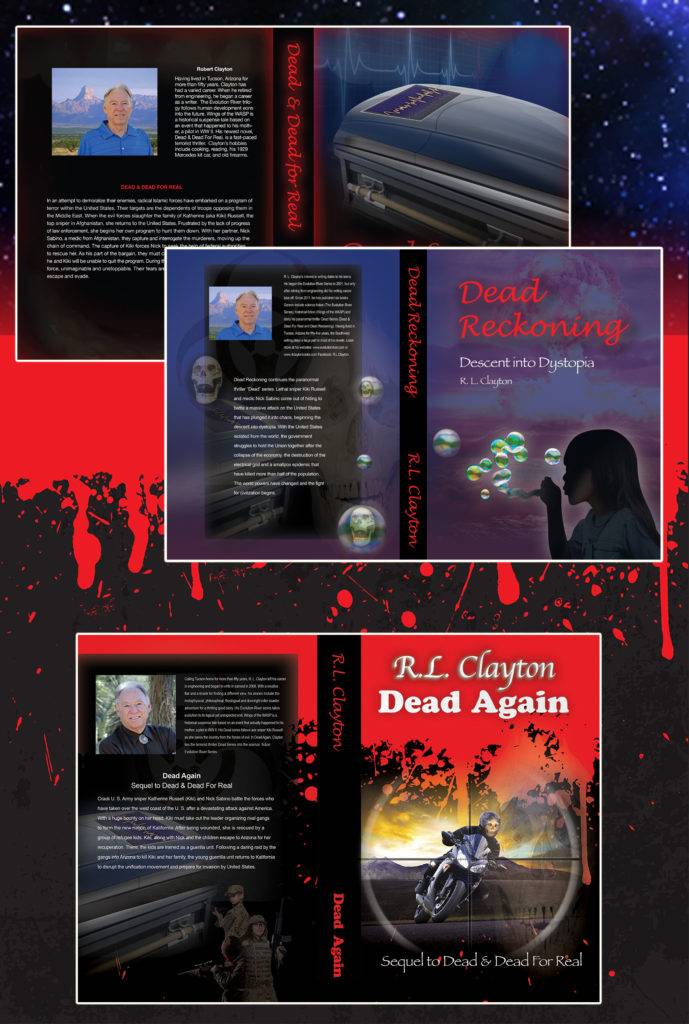 R.L. Clayton books grew as more books were added to the library. The next frightening book in the series was Dead Reckoning, a child with a bubble wand blowing dangerous chemical agents into the air. The whole idea and darkness of the Dead Series truly inspired my love of the macabre.
Dead again followed Dead Reckoning and the next chapter in the series leads back to the Envoy in the Evolution River Series. It is very exciting to see a writer create a body of work and I feel like I am on a journey that continues to inspire me and reach for more creativity.
As I continue to grow my skills and knowledge of book marketing we are seeing how the public reacts as each book is produced and Clayton attends book readings. We have recently gotten some great reviews on the Dead series and am anxious for the next book to be finished.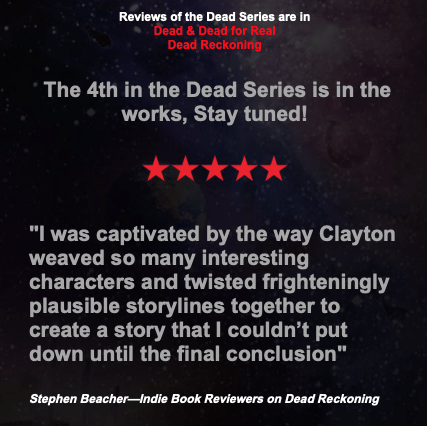 During the process of creating all the books, Clayton had mentioned a book he was thinking of with his 9-year-old granddaughter, a children's book. The first cover we tried was with real photographs and than we decided pastel was the way to go. Inside of the book are 12 separate illustrations of the yard in pastel and the characters besides the cat were all created in Adobe Illustrator.
The book is finally available on ebook and in print on Amazon. During this process we have learned about publishers, I've created a video for the evolution river series, two websites, several reviews and two websites. We both have learned from a relationship that has lasted more than ten years and I am excited about the new projects and the new books we'll come to create, in fact other children's books are on the list as well. We'll see.
All of this knowledge and experience came from a trusting and mutually rewarding relationship and I consider myself lucky to be able to work with a great write like Clayton.
Please check out his books at www.rlclaytonbooks.com.